Appearances
Edit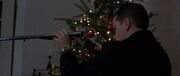 Bourne takes the shotgun, which belongs to Eamon, and loads it. He goes into the valley chasing the Professor. Bourne finds the Professor and shoots him once, incapacitating him. Bourne reloads and shoots one more time to finally obliterate the Professor, which later dies from the wounds caused by shotgun.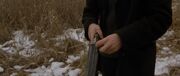 Ad blocker interference detected!
Wikia is a free-to-use site that makes money from advertising. We have a modified experience for viewers using ad blockers

Wikia is not accessible if you've made further modifications. Remove the custom ad blocker rule(s) and the page will load as expected.