Specifications
Edit
(1982 - Present)
Type: Pistol
Caliber(s): 9x18mm, .380 ACP, .32 ACP
Weight: 2.03 lbs (0.92 kg)
Length: 6.8 in (17.2 cm)
Barrel length(s): 3.8 in (9.7 cm)
Capacity: 12
Fire Modes: Semi-Automatic
Appearances
Edit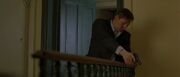 Alexander Conklin
pulls a CZ 83 from the field kit of Nicky Parsons to confront Bourne, however he never gets the chance to shoot Bourne.
Ad blocker interference detected!
Wikia is a free-to-use site that makes money from advertising. We have a modified experience for viewers using ad blockers

Wikia is not accessible if you've made further modifications. Remove the custom ad blocker rule(s) and the page will load as expected.