Gemeinschaft Bank is a bank that is located in Zurich, Switzerland. Jason Charles Bourne had an account here. In The Bourne Identity, the CIA supplied Bourne with $5,000,000, passports of varying nationalities and a handgun in a deposit box under the name of "Treadstone." Bourne took the money and passports but left the handgun, a SIG Sauer SP2009.
The contents of Bourne's safety deposit box were as follows:
US Passport (Jason Bourne)
US Passport Card (John Michael Kane)
Canadian Passport (Paul Kay)
French Passport (Nicolas Lemanissier)
Russian Passport (Foma Kiniaev)
Brazilian Passport (Gilberto de Piento)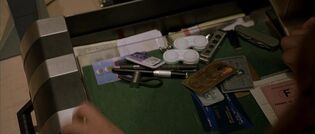 2 Air France Club 2000 Credit Cards
2 Platinum American Express Credit Cards
2 Gold "Double Globe" Mastercards
2 French telephone cards
French Drivers License
French Medical insurance card
2 sets of Elegance color contact lenses with accompanying cases
MacHasp USB Flash Drive
4 Uniball pen eye needlepoint ub165
Coast MT3900CP Multitool Pocket Tool Box
Dark Green rubber grip 3 or 4 blade Swiss Army style knife x on grip
A Tag Heuer Link Quartz Chronograph Watch - Ref. CT1111.BA0550
Totals for currency breakdowns are approximations but should give a rough idea as to what he carried out of the bank.
$110,000 USD in $10,000 bundles
R$20,000 Brazilian Reais in R$10,000 bundles
ر.س100,000 Saudi Riyals in ر.س50,000 Riyal bundles
ƒ100,000 Dutch Guilders in ƒ25,000 Guilder bundles
¥30,000 Chinese Yuan in ¥10,000 bundles
£50,000 GBP in £25,000 bundles
₤20,000,000 Italian Lire in ₤10,000,000 Lire bundles
F100,000 French Francs in F50,000 bundles
DM

100,000 Deutsche Marks in DM50,000 bundles

$30,000 AUD in $10,000 bundles
Ad blocker interference detected!
Wikia is a free-to-use site that makes money from advertising. We have a modified experience for viewers using ad blockers

Wikia is not accessible if you've made further modifications. Remove the custom ad blocker rule(s) and the page will load as expected.