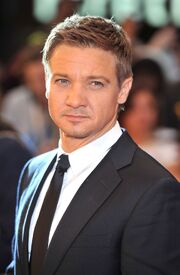 Jeremy Lee Renner is an award winning American actor who portrayed Aaron Cross in The Bourne Legacy. He first movie role was in Nation Lampoon's Senior Trip in 1995. His rise to fame came when he starred in The Hurt Locker, and since then has appeared in other profile movies such as The Town, Mission: Impossible - Ghost Protocal and The Avengers. In 2013, he appeared in the fantasy adventure film Hansel and Gretel: Witch Hunters.
Ad blocker interference detected!
Wikia is a free-to-use site that makes money from advertising. We have a modified experience for viewers using ad blockers

Wikia is not accessible if you've made further modifications. Remove the custom ad blocker rule(s) and the page will load as expected.