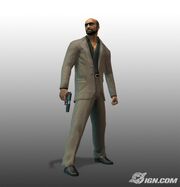 Khalid Azar was the buyer during Charles Renard's weapons deal at Rendard's museum.
Information
Edit
While the deal is being struck, Azar sent an assassin to take out Renard's men. Bourne kills the buyer's assassin and makes it to the site of the weapons deal. He tries to find the weapon, but Renard and Khalid get to it first (the weapon is revealed to be a dirty bomb), and then Azar double crosses and shoots Renard. Bourne changes his primary objective to killing Azar. In the crossfire between Azar's and Renard's men, he manages to chase Azar through the museum and shoot down his helicopter.
Ad blocker interference detected!
Wikia is a free-to-use site that makes money from advertising. We have a modified experience for viewers using ad blockers

Wikia is not accessible if you've made further modifications. Remove the custom ad blocker rule(s) and the page will load as expected.