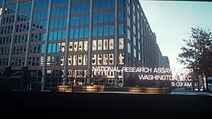 The National Research Assay Group, abbreviated to NRAG, is an investigative institute based in Washington, DC that features in The Bourne Legacy. They work closely with Terrence Ward, an executive at the pharmaceutical company Sterisyn-Morlanta.
Information
Edit
NRAG is the organization in charge of the so-called Beta Programs, spear-headed by Eric Byer, a retired Air Force colonel who built the programs from the ground-up and has maintained them all the way. Although they've been behind the scenes since the very beginning, it is only when Pamela Landy and Jason Bourne expose Treadstone that NRAG begins to enter the spotlight.
During the review, NRAG determines that its programs have the potential to be compromised due to the ill-advised sharing of assets between the various black projects by over-zealous CIA officials. The programs reviewed by the investigative team are Emerald Lake, Treadstone, Blackbriar, Outcome, and LARX.
Given their name, it is likely that NRAG is tasked with assessing the potential benefits of scientific research projects to national security. Often times high ranking government officials will work closely with corporate executives whose work is vital to the national interest, such as railroad and shipping companies, among others. In the case of NRAG, this extends to pharmaceutical companies.
The NRAG's focus on national security and experimental operations, coupled with its extremely high security clearance, draws parallels with the National Security Agency.
Ad blocker interference detected!
Wikia is a free-to-use site that makes money from advertising. We have a modified experience for viewers using ad blockers

Wikia is not accessible if you've made further modifications. Remove the custom ad blocker rule(s) and the page will load as expected.