The Nemesis Arms Vanquish (also known as the Nemesis Arms Mini-Windrunner) is a lightweight, tactical, take down rifle built from a small action version of the .50 EDM Arms Windrunner M96, which was also the base rifle used in the manufacture of the Cheyenne Tactical M-200 Intervention. The Vanquish is a multi calibre rifle, and this can be changed by simply replacing the threaded barrel (all other parts including the magazine do not need to be changed). The Vanquish has been tested by Marine Scout Snipers at the High Altitude Shooting Course where they were able to hold 3 inch groups at 600 yards and 6.5 inch groups at 905 yards.
Specifications
Edit
(???? - Present)
Type: Sniper Rifle
Caliber: .338 Federal, .308 Win, .260 Rem, 6.5 Creedmoor or .243 Win
Weight: 12 lbs (5.4 kg)
Length: 39 in (99.1 cm)
Barrel length: 20 in (50.8 cm)
Capacity: 5 round box
Fire Modes: Bolt Action
Appearances
Edit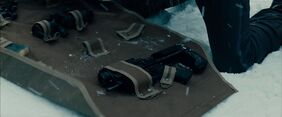 Aaron Cross
, uses a customized Nemesis Arms Vanquish, or at least a rifle based on it, during a training mission in Alaska. This particular rifle is supposed to be a semi-automatic as the bolt action appears to have been removed.  In the scene where he's firing the 3 announcement shots, it shows 2 spent shells being ejected and a cartridge being loaded by the bolt.  Maybe that's why he was aiming a little high at the drone. :)
Ad blocker interference detected!
Wikia is a free-to-use site that makes money from advertising. We have a modified experience for viewers using ad blockers

Wikia is not accessible if you've made further modifications. Remove the custom ad blocker rule(s) and the page will load as expected.