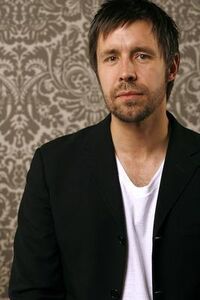 Paddy Considine is a British actor who portrayed Simon Ross in The Bourne Ultimatum.
He was born in 1973 in Staffordshire, to an Irish father. At 17 he enrolled in a performing arts course at Burton college, where he met Shane Meadows. Meadows worked with Considine in several short films, before casting him A Room for Romeo Brass, where he portrayed a loner who befriended two children. From there Considine's career took off, appearing in many films and gaining international recognition. Considine has also directed several shorts, with Dog Altogether winning a Bafta.
Selected filmography
Edit
Blitz (2011)
Submarine (2010)
Le Donk & Scor-Zay-Zee (2009)
The Bourne Ultimatum (2007)
Hot Fuzz (2007)
Cinderella Man (2005)
Dead Man's Shoes (2004)
In America (2003)
24 Hour Party People (2002)
Last Resort (2002)
A Room for Romeo Brass (1999)
Television appearances
Edit
The Suspicions of Mr Whicher (2011)
Red Riding (2009)
My Zinc Bed (2008)
Pu-239 (2006)
Ad blocker interference detected!
Wikia is a free-to-use site that makes money from advertising. We have a modified experience for viewers using ad blockers

Wikia is not accessible if you've made further modifications. Remove the custom ad blocker rule(s) and the page will load as expected.