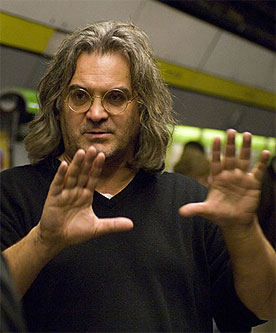 Paul Greengrass (born 13 August 1955) is an English film director, film producer, screenwriter and former journalist. He specializes in dramatizations of real-life events and is known for his signature use of hand-held cameras. His early film Bloody Sunday won the Golden Bear at 52nd Berlin International Film Festival. Other films he has directed include three in the Bourne action/thriller series: The Bourne Supremacy (2004), The Bourne Ultimatum (2007) and the upcoming film Jason Bourne (2016); United 93 (2006), for which he won the BAFTA Award for Best Director, and received an Academy Award for Best Director nomination, Green Zone
(2010) and Captain Phillips (2013).
Early Life
Edit
Greengrass was born 13 August 1955 in Cheam, Surrey, England. His mother was a teacher and his father a river pilot and merchant seaman. He is the brother of noted English historian Mark Greengrass. Greengrass was educated at Westcourt Primary School, Gravesend Grammar School, and Sevenoaks School and attended Queens' College, Cambridge. In October 2012, he received an honorary degree from Kingston University in recognition of his "outstanding contribution to television and cinema".
The Bourne Supremacy
Edit
Greengrass was hired to direct 2004's The Bourne Supremacy, a sequel to the 2002 film The Bourne Identity, after the first film's director, Doug Liman, left the project. The film starred Matt Damon as Jason Bourne, an amnesiac who realizes he was once a top CIA assassin and is now being pursued by his former employers. It proved to be an unexpectedly enormous financial and critical success, and secured Greengrass's reputation and ability to get his smaller, more personal films made.
The Bourne Ultimatum
Edit
He followed this with a return to the Bourne franchise. The Bourne Ultimatum, released in 2007, was an even bigger success than the previous two films and provided him with yet another BAFTA nomination for Best Director at the 61st British Academy Film Awards.
Jason Bourne
Edit
Greengrass came back for a third Bourne film in 2016's Jason Bourne after taking a break in 2012's The Bourne Legacy. This also marked the return of Matt Damon as Jason Bourne to the series. Critical response was mixed when regarded by the critics, while audiences tended toward more to the positive end of the scale. Review aggregator Rotten Tomatoes gave the film an approval rating of 56% based on 268 reviews, with a weighted average score of 5.9/10. The site's critical consensus states, "Jason Bourne delivers fans of the franchise more of what they've come to expect – which is this sequel's biggest selling point as well as its greatest flaw." Metacritic gave the film a normalized score of 58 out of 100, based on 50 critics, indicating "mixed or average reviews".[62] Audiences polled by CinemaScore gave the film an average grade of "A–" on an A+ to F scale.[63]
Ad blocker interference detected!
Wikia is a free-to-use site that makes money from advertising. We have a modified experience for viewers using ad blockers

Wikia is not accessible if you've made further modifications. Remove the custom ad blocker rule(s) and the page will load as expected.