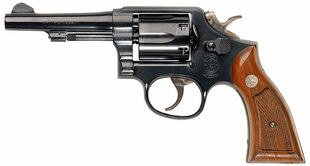 The Smith & Wesson Model 10 is a six-shot revolver double-action revolver.
Information
Edit
(1899-Present)
Type: Revolver
Caliber(s): .22 Long Rifle, .38 Long Colt, .38 Special
Capacity: 6-round cylinder
Weight: 1.9 lbs (0.88 kg)
Length: 11.1 in (28.2 cm)
Barrel Lengths: 2 in (5.1 cm), 3 in (7.6 cm), 5 in (12.7 cm), 6.5 in (16.5 cm)
Fire Modes: SA/DA
Appearances
Edit
During the confrontation with several security guards in the pharmaceutical plant in Manila, Cross takes an Smith and Wesson from one them and points it towards the fallen guards.
Ad blocker interference detected!
Wikia is a free-to-use site that makes money from advertising. We have a modified experience for viewers using ad blockers

Wikia is not accessible if you've made further modifications. Remove the custom ad blocker rule(s) and the page will load as expected.