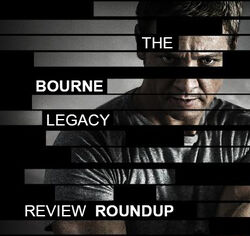 The newest Bourne incarnation is finally here! After a great deal of speculation, we finally get to see how Aaron Cross stacks up against the Jason Bourne. So, how good is the movie according to top critics? So far it's a split decision between the top two critic sites - with Metacritic showing a critic score of 61/100 (Generally favorable) while Rotten Tomatoes shows 50% (Rotten). What are they saying? Check out our review round-up below for the answer to that question, and be sure to leave your opinion in the comments!
Loved It
Score: 91/100
Renner's Cross is a conflicted hero built to take advantage of the "Hurt Locker" star's best qualities as an actor - his default intensity, the way he conveys that complicated mental calculations are taking place under cover of watchful stillness, even underwater.
Read more: http://www.ew.com/ew/article/0,,20589882,00.html
Score: 89/100
Viscerally, The Bourne Legacy packs a punch. If you're looking for a traditional sequel though, you'll probably be disappointed, but if it's a whole new ride you're after, you've come to the right place. Bourne has indeed been reborn.
Read more: http://blogs.indiewire.com/theplaylist/review-the-bourne-legacy-is-a-fresh-and-exciting-expansion-of-the-franchise-20120807
Score: 4/5
Complex, unexpected and dazzling, alternating relentless tension with resonant emotional moments, this is an exemplary espionage thriller that has a strong sense of what it wants to accomplish and how best to get there.
Read more: http://www.latimes.com/entertainment/movies/moviesnow/la-et-mn-bourne-legacy-review-20120810,0,3228287.story
Score: 3/4
Gilroy has brought characteristic taste and skill to a nearly impossible task: embracing the past without completely erasing it, thereby creating an invitingly complicated and open-ended future.
Read more: http://www.washingtonpost.com/gog/movies/the-bourne-legacy,1176049/critic-review.html
Score: 3/4
It's not the same ultra-high-caliber espionage thriller without Matt Damon sprinting around the globe or masterful director Paul Greengrass in charge, but The Bourne Legacy is a brisk and challenging film.
Read more: http://www.usatoday.com/life/movies/reviews/story/2012-08-10/bourne-legacy-jeremy-renner/56922716/1?csp=34life&utm_source=feedburner&utm_medium=feed&utm_campaign=Feed%3A+UsatodaycomMovies-TopStories+%28Life+-+Movies+-+Top+Stories%29
Score: 70%
Can a Bourne-again movie succeed without Matt Damon as Jason Bourne, without Bourne himself, and without a Robert Ludlum book as the production's turn-by-turn guide? Yes, it can.
Read more: http://online.wsj.com/article/SB10000872396390443537404577577243030504690.html?mod=WSJ_ArtsEnt_LifestyleArtEnt_2
Rating: "Fresh"
Gilroy, who's had a hand in writing the previous three films in the franchise, cleverly overlaps the events of this chapter with those of The Bourne Ultimatum.
Read more: http://www.npr.org/2012/08/09/158196658/bourne-new-character-new-star-same-results?ft=1&f=1045
Rating: "Fresh"
Structurally, yes, it's loaded with all the lies, schemes and high-tech trickery that are staples of the espionage genre. But a deeper, more individualistic source of tension propels the film along.
Read more: http://www.huffingtonpost.com/huff-wires/20120808/us-film-review-the-bourne-legacy/
Score: 3/5
By the time Rachel Weisz, as a scientist called Dr. Marta Shearing, showed up in a lab coat, I stopped trying to parse every plot twist and just went with the action flow.
Read more: http://movies.nytimes.com/2012/08/10/movies/movie-review-the-bourne-legacy.html?partner=rss&emc=rss
Thought it was just "okay"
Score: 2.5/4
The Bourne Legacy is dwarfed by the three smash Bourne movies that preceded it. But for summer movie night escapsim, you could do worse.
Read more: http://www.rollingstone.com/movies/reviews/the-bourne-legacy-20120809
Score: 2.5/4
The best thing that can be said about "The Bourne Legacy" is that Renner will survive it.
Read more: http://www.boston.com/ae/movies/2012/08/08/bourne-legacy-can-revive-the-franchise-without-matt-damon/6KlVlLb39Dnew69jC9xxMN/story.html
Score: 60/100
Now, we have Jeremy Renner as another Treadstone mega man (there were nine, apparently), and though he is a likable enough pug-nosed action figure, the Damonlessness is sorely felt.
Read more: http://www.villagevoice.com/2012-08-08/film/the-bourne-legacy-who-s-the-new-guy/
Score: 60/100
The Bourne Legacy doesn't reach the heights of the previous three films, but a guns-blazing final act and strong performances from its entire cast might give it the juice to try for a fifth sequel.
Read more: http://www.boxoffice.com/reviews/2012-08-the-bourne-legacy
Hated It
Score: 50/100
The overall tone is familiar, refried, redundant.
Read more: http://entertainment.time.com/2012/08/09/the-bourne-legacy-spy-vs-drones-which-is-which/
Score: 50/100
"The Bourne Identity." "The Bourne Supremacy." "The Bourne Ultimatum." And now, "The Pointless, Confused and Then, For the Last Half-Hour, Exciting Bourne Sequel, After a Fashion," more commonly known as The Bourne Legacy.
Read more: http://www.chicagotribune.com/entertainment/movies/sc-mov-0807-bourne-legacy-20120809,0,1685545.column
Score: 38/100
The talented Jeremy Renner falls short of replacing Matt Damon in this overly talky reboot. Renner and the audience deserve better.
Read more: http://www.nypost.com/p/entertainment/movies/still_bourne_ElWze46EsP7kzHHnTBMGAL#ixzz23BBra6uP
Score: 1/4
It all but squanders Jeremy Renner and Rachel Weisz, although with actors less appealing, "The Bourne Legacy" would be even worse.
Read more: http://www.sfgate.com/movies/article/The-Bourne-Legacy-review-DOA-3775988.php
Wikian Reviews
Now it's time for Wikians to review The Bourne Legacy. When you see it, post your thoughts in the comments or post your own blog! Let us know what you thought while experiencing the first Jeremy Renner Bourne on the big screen!
Was The Bourne Legacy as good as its Matt Damon-lead predecessors?
---
---
Ad blocker interference detected!
Wikia is a free-to-use site that makes money from advertising. We have a modified experience for viewers using ad blockers

Wikia is not accessible if you've made further modifications. Remove the custom ad blocker rule(s) and the page will load as expected.